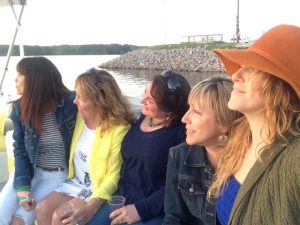 Our workshops create time and space for groups to relax and focus. Regular workshops include monthly tele-classes — audio workshops that you can participate in remotely — and our signature monthly Mighty Mermaid gatherings, held in the Pinnacle View studio or on our pontoon boat on Jordan Lake.
Our Next Workshop
Saturday, June 10, 10am – 5pm
Law Of Attraction – Attracting What You Want
Investment: $299.00. Space is limited; register today!
Bonuses include the Jack Canfield Vision Board kit, gratitude journal and follow-up coaching call.
Join us if you want:
a healthy relationship
a new career
more financial income
greater joy and satisfaction
amazing tools to live your life in purpose with passion
We all have fears, limiting beliefs and self doubts. The difference in those who create and those who stay dreaming, is the application of tools that have you shifting your self-doubts into powerful affirmations about who you are and what you deserve. Your action plan, coupled with true inspiration, provides the opportunity for amazing results.
Mary went from not believing in herself to affirming her worth, and is now in a healthy, loving relationship.
Renee went from only dreaming about creating her delicious products to observing them on the Whole Foods shelves!
Amy went from a stressful sales job to having the audacity to start her own business. She is thriving and as she says, 'living the dream.'
Whether you're new to the Law of Attraction or have been practicing for years, join us for this powerful workshop. Live your life everyday as though you are a worthy and deserving manifesting machine. You are!
Need a Customized Workshop?
Contact us to design a workshop to meet your needs. For a complete listing of upcoming workshops, check the calendar.
This concept has changed my life. I used to obsess about aging and worried about every possible 'sign' of it. Now I take myself to the beach, celebrate with friends, and embrace this next chapter. What a difference it has made in how I live everyday." – Betty from NC