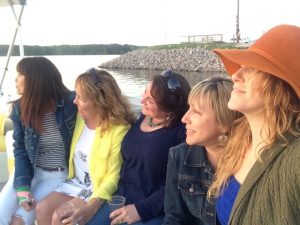 Our workshops create time and space for groups to relax and focus. Regular workshops include monthly tele-classes — audio workshops that you can participate in remotely — and our signature monthly Mighty Mermaid gatherings, held in the Pinnacle View studio or on our pontoon boat on Jordan Lake.
Need a Customized Workshop?
Contact us to design a workshop to meet your needs. For a complete listing of upcoming workshops, check the calendar.
This concept has changed my life. I used to obsess about aging and worried about every possible 'sign' of it. Now I take myself to the beach, celebrate with friends, and embrace this next chapter. What a difference it has made in how I live everyday." – Betty from NC