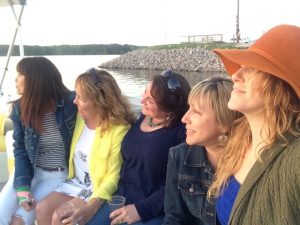 Our workshops create time and space for groups to relax and focus. Regular workshops include monthly tele-classes — audio workshops that you can participate in remotely — and our signature monthly Mighty Mermaid gatherings, held in the Pinnacle View studio or on our pontoon boat on Jordan Lake.
Our Next Workshops
Saturday, January 13, 12:30 – 5:30pm. Best Vision Board Mini Retreat Ever! Join us and receive your amazing Vision Board Kit, Law of Attraction book, Gratitude Journal, and participate in an empowering workshop. Having a clear vision for 2018 will keep you inspired, motivated and on track. Having the coolest Jack Canfield DREAM BIG Vision Board Kit will make you leap for joy ($80.00 value). Pictures and visual images create emotional responses within you and help amplify the energy you project. Your Vision Book is a private, sacred space where you can define your dreams, goals and inspirations. You are the author and this is your future! Celebrate the new year and enjoy the safe and easy process of designing and aligning with your vision and bringing your dreams to life. $150.00 Registration required. Limit 12.
Need a Customized Workshop?
Contact us to design a workshop to meet your needs. For a complete listing of upcoming workshops, check the calendar.
This concept has changed my life. I used to obsess about aging and worried about every possible 'sign' of it. Now I take myself to the beach, celebrate with friends, and embrace this next chapter. What a difference it has made in how I live everyday." – Betty from NC