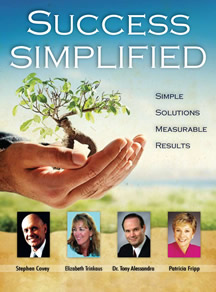 Success Simplified:
Simple Solutions Measurable Results
Elizabeth's chapter in Success Simplified, "Take Command and Love the Life You Live!," suggests that we should re-define success for ourselves and look at what our culture has taught us. The current cultural definition of success, "I'll be happy when I have ________," has many people living in the future rather than experiencing their happiness now.
In talking with many clients, and in looking at her own life, Elizabeth believes that success means taking command and loving the life we live. Doing so requires us to create our own definition of success and use specific tools to design a life we truly love.
Workshops based on Success Simplified are available.
Price $20 Sale Price $10 Free shipping!

---
Conversations on Success
Elizabeth's chapter in Conversations On Success, featuring Deepak Chopra and Mark Victor Hansen was a consolidation of the discoveries and insights that had been brewing inside her after years of coaching clients and facilitating workshops for corporations, small businesses, and non-profit organizations. There was no doubt in her mind that so many people she met were grappling with the conundrum of feeling (and often not feeling) successful personally and professionally.
Price $20 Sale Price $10 Free shipping!

---
Featured Columnist: American Spa Magazine
Elizabeth was a regular columnist for American Spa Magazine from 2005-2008. Her column, "Star Recognition: Supporting Your Employees Can Help Your Spa Shine Brighter" was featured monthly. Copies of her columns are available upon request.
---
Pinnacle View Affirmation Cards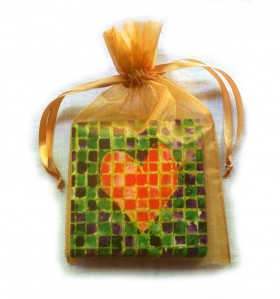 Want to make someone's day, every day? Hand out these affirmation cards throughout your travels, at your local bank, restaurant, or dentist's office. Or draw one each day to remind yourself of the positive messages they deliver. Believe your life has purpose, direction, and amazing flow.
Price $20 Sale Price $10 Free shipping!
Volume discounts for resorts and spas with your logo; shipping prices will vary.

The Story Behind the Cards
Early in life, Elizabeth and her brother Mark found creative ways to bring moments of joy to strangers. Whether it was paying the fee for the car behind them at a toll-booth, engaging frustrated retail cashiers in lively, fun conversations or complimenting strangers on the street—the two delighted in passing "positive energy" on to the people they encountered daily. Fueled by their recipients' expressions of joy, Elizabeth and Mark learned how much their own lives were enriched by positively influencing the lives of others. Elizabeth wrote the affirmations and Mark designed the cards.