Enough Already! Yes, You Are:
A step-by-step guide to crushing the myth that if you do just one more thing, you will finally be enough.
Enough Already! Yes, You Are will inspire you to wake up to your truest self by crushing the myth that your enough-ness resides somewhere "out there." Elizabeth offers real-life solutions for you to get who you really are — separate from what you have and do— and provides step-by-step tools to help you live in the powerful present. Best of all: Enough Already! will have you living with more joy and satisfaction now, and will bring more creativity and inspiration to all those important dreams. So grab a comfy seat…this book is in your hands for a reason.
Buy on Amazon
Buy on Indie Bound
With wisdom and humor, Elizabeth takes you on a whimsical journey of letting go of negative beliefs and accepting the amazing person you are. Complete with inspiring stories, transformative exercises, and poetry, each chapter encourages you to shine. This is a book you'll treasure and return to many times when you need a reminder that you ARE enough.
— Patricia J. Crane, Ph.D., Master Trainer in the Louise Hay Heal Your Life Programs
With every personal and professional pursuit to achieve more, we are inevitably asked to give "more." Many of us do this, without question, until we realize that we're dangerously close to burning out or thinking that our happiness is the cost of achieving our real potential. In other words, we just aren't enough! That's where the magic of this beautiful book comes to life. Written in an authentic voice and with a courageous mindset, we learn pure and powerful strategies to help us "lean into" ourselves to find what's been there all along: Our power to achieve and receive— to be our own catalyst for an infinite supply of more than "enough."
— Dawn Galzerano, Senior Director, Cisco Systems
---
Success Simplified:
Simple Solutions Measurable Results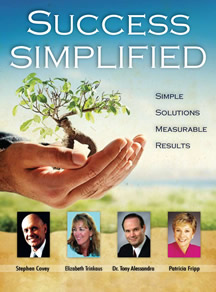 Elizabeth's chapter in Success Simplified, "Take Command and Love the Life You Live!," suggests that we should re-define success for ourselves and look at what our culture has taught us. The current cultural definition of success, "I'll be happy when I have ________," has many people living in the future rather than experiencing their happiness now.
In talking with many clients, and in looking at her own life, Elizabeth believes that success means taking command and loving the life we live. Doing so requires us to create our own definition of success and use specific tools to design a life we truly love.
Workshops based on Success Simplified are available.
Price $20

---
Conversations on Success
Elizabeth's chapter in Conversations On Success, featuring Deepak Chopra and Mark Victor Hansen was a consolidation of the discoveries and insights that had been brewing inside her after years of coaching clients and facilitating workshops for corporations, small businesses, and non-profit organizations. There was no doubt in her mind that so many people she met were grappling with the conundrum of feeling (and often not feeling) successful personally and professionally.
Price $20

---
Featured Columnist: American Spa Magazine
Elizabeth was a regular columnist for American Spa Magazine from 2005-2008. Her column, "Star Recognition: Supporting Your Employees Can Help Your Spa Shine Brighter" was featured monthly. Copies of her columns are available upon request.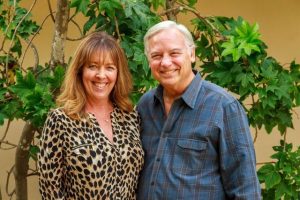 PHOTO: Elizabeth Trinkaus and Jack Canfield, Santa Barbara, CA